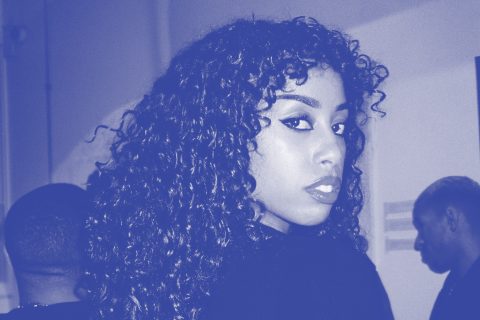 Artist Info
Without experimentation, innovation is impossible. For Rochelle Jordan, this desire for sonic expansion has been long embedded into her fusion of futuristic and ancestrally soulful R&B. To listen to a ROJO song is to absorb a phosphorescent but subtle blend of sampledelic 90s pop, vintage UK house and garage, 31st century electronic bangers, airy late night ballads, and progressive hip-hop. 
On Play With the Changes, her new album on TOKiMONSTA's Young Art imprint, the Toronto-raised, Los Angeles-based Jordan showcases not just her own personal evolution, but a path to pushing sound forward. It presents her as a modern heir in a lineage of powerhouse vocalists with style and imagination: everyone from Whitney Houston to Celine Dion, Aaliyah to Amerie, Kelis to Mariah Carey. 
Born in London to British-Jamaican parents, Jordan and her family relocated to the eastside of Toronto in the early '90s. Her father, a drummer, encouraged her love of art and instilled an appreciation for Northern soul, and Jamaican reggae and dancehall. Bleeding through the walls of her childhood bedroom, the adolescent Jordan soaked in the record collection of her older brother: funky UK house, nocturnal drum and bass, garage, and all the gospel samples contained therein. 
In the early years of the last decade, Jordan forged a close and enduring musical kinship with rising producer, KLSH, who had discovered her via YouTube uploads of classic 90s R&B covers. Her first releases ROJO (2011) and Pressure (2012) received blog acclaim and became seminal works of the left-field R&B that defined much of the decade's best output. She quickly followed it with 2013's Origins, which revealed an astonishing ease and preternatural effortlessness to her sound. A singular ability to blend sultriness with grit, confidence with a playful experimental streak.  
In the wake of those projects, Jordan's career swiftly elevated. After relocating from the 6 to L.A., the U.K. pop superstar Jessie Ware invited Jordan to open up for her on her first American tour. Shortly thereafter, Childish Gambino (Donald Glover) conscripted Jordan to write on his 2014 Grammy-nominated album, Because the Internet. That same year, Jordan unveiled 1021, her first complete statement, an album that produced the multi-million streaming singles "Lowkey" and "Follow Me." 
Pitchfork named "Follow Me" one of the most essential post-Drake Toronto tracks, raving that the album was one of the best contemporary R&B albums of the last five years. While Vice hailed Jordan's ability to "seamlessly bring in the house sounds of her UK birthplace, the glassy vibes of Toronto R&B, and the sonic adventurousness and now-classic influence of artists like Missy Elliott." Jordan even landed a stint doing voice over work for the Adult Swim show, Black Dynamite, where she appeared as Cindy in a memorable episode featuring Erykah Badu, Chance the Rapper, and Mel B. of the Spice Girls. 
After a contemplative period marked by spiritual and artistic growth, Jordan returned with a slew of ethereal soul — collaborations with Machinedrum, Jacques Greene, and J-E-T-S. It all led up to the radiant breakthrough that is her new album, Play With the Changes. Produced by KLSH, Machinedrum, and Jimmy Edgar, Jordan defies categorization to create a project full of slinky, dancefloor-packing burners that channel her U.K. roots — reminiscent of childhood nights spent listening to her brother's 2-step hymns from the other side of the wall. These are songs of experience: grappling with depression, homesickness, and struggles with an industry that rarely has room for true originals — especially ones who write all their own music. But they are unmistakably songs of triumph. 
There is "Got 'Em," a levitating strobelite affirmation that combines classic handbag house with Jordan's gift for blending the strains of the diaspora. Crystal Waters crossed with Aaliyah. A track versatile enough for underground raves or witching hour headphone reveries. "All Along" is consecrated to the importance of self-care, and the need to find inner peace before you can discover a truly profound love. It's what you'd expect to hear in the legendary dance music tabernacle, the Paradise Garage, if it existed in 2021. "Next 2 You" is a classic in the art of storytelling, a tale of an almost mystic attraction that comes as close as anyone could ever come to answering the question of what Rhythm Nation Janet Jackson would sound like over an early 2000s Deadmau5 beat — except it's a quintessential communion between Jordan and KLSH. 
Ultimately, this album reflects the truth of Jordan as an artist: relentlessly innovative, suffused with transcendent soul, replete with imagination and wild style. The type of artist who inspires others towards originality in a world where everything feels photoshopped. Someone not afraid to search, to go deeper, to discover new directions, to create change in any and all forms.